Strategic Investment Area letter to Daily Progress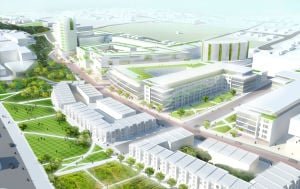 Letters@dailyprogress.com
December 31, 2013
Dear Editor:
Why would anyone invest in the Strategic Investment Area? In response to City Councilor Kathy Galvin's letter ("SIA development plan benefits city," Dec. 31, 2013, The Daily Progress), I would like to present a different view and constructive solutions.
It's funny how proponents of a project can claim there's been no pushback when people have been pushing back for years. On Dec. 27 on the Schilling Show I described the history. First there was Vinegar Hill. Then there was another Vinegar Hill three times bigger than the first. The second Vinegar Hill is called the Strategic Investment area, historically named after Alexander Garrett.
Vinegar Hill kept its name so most people know about it. The Garrett neighborhood lost its name so today most people don't know it ever existed.
The current plan is to sell the city-owned open space that was occupied land 40 years ago. During those decades there has been redevelopment such as Friendship Court and other public housing, the Glass Building, Dittmar Condos, Luxury Gleason and Norcross Apartments, ACAC. But this urban renewal project was so big there's still a lot of land un-redeveloped.
Why not sell the surplus land at auction? Some tax revenue would be better than the zero revenue now. But if you buy this land, you have to invest and build what the City wants, not what you want. And it appears the City wants more than was there 40 years ago, not more than the zero now. Potential investors are concerned the City might take back the land before the investment is recouped as it was taken from the previous owners.
In order to move forward, the City must do two things. City Council should affirm true private property rights by passing an ordinance to protect existing property tax revenue from government action that favors speculated future revenue increases. And the City must publish the Housing Authority archives and tell the full history.
Sincerely,
Blair Hawkins
I haven't seen the letter printed but I missed a few days. I don't see it on the website. City Council received the letter 3 weeks ago. What fact or opinion do you think is too radical to print?
Blair Hawkins on WINA Dec. 27, 2013 talking about Strategic Investment Area dead zone south of Landmark Hotel
http://wina.com/download.php?file=http%3A%2F%2Fmedia.wina.com%2Fss_122713_hour_1.mp3
City to weigh SIA for plan, Feb. 3, 2014.
http://www.dailyprogress.com/news/local/council-to-weigh-putting-strategic-investment-area-into-comprehensive-plan/article_2ee9f958-8c56-11e3-b012-001a4bcf6878.html